Social Media Marketing Services
The marketplace is flooded with brands and products hence competition is tough. Any brand or enterprise that establishes a strong social media existence is bound to bloom. But how do you go about it? Well, social media services are the answer.
Social media marketing is the need of the hour. The concept is based on the fact that any brand's social media presence attracts audience who are its future customers and in turn influences the enterprise's success. The services deal with not only the brand's visibility but also its promotion, growth, and success through social media. From creating efficient posts to formulating strategies to reach the target audience through social media – all of them are a part of social media services.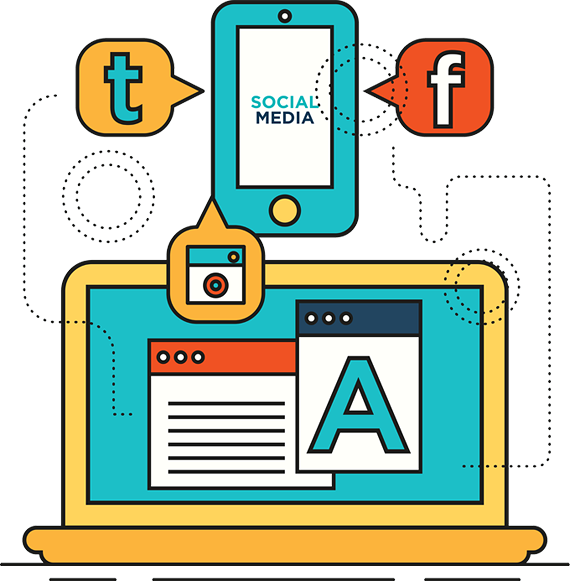 Professional Tools for Your Business
Brand Monitoring
People will have opinions but how you track them out from this vast pool of digital world and how you deal with them decide the next business. Monitor your audience with us.
Social Media Contests
Competition. Who does not like that? Start one on social media and watch how they just can't stop
mentioning the organizers.
Social Media Management
Yes, they search your brand on Google but why don't you search them on social media? Why miss the
best deal? Go social, go Global.
Setup & Custom Profile Design
Every small detail matters in business and it's true for your business profile on social media. Why not the
best hands craft them?
Importance of social media
Well, it is hard to imagine life without – love and social media. Today when social media has become the oxygen of our life, its impact is huge and the influence is intense. Be it Facebook, Instagram, Twitter or LinkedIn – these forums are followed by millions of users.
The importance of social media for any brand is immense. It is a well-known fact that social network is one of the fastest expanding industries in the world. Each of the platforms has billions of active users. These users are any brand's potential customers.
People, irrespective of country, gender or age group, use social media platforms. Hence the brand gets global access through each forum.
The benefits of social media are
It helps you to create your brand's visibility and reach out to billions of active users.
Reinforcing your social media presence reinforces your brands with potential customers.
Social media facilitates quick response and interaction.
The overall response of the users helps you to analyze your brand's popularity and formulate strategies.
Diverse and various tools of interaction such as posts, comments, messages, blogs, tweets, pictures, videos, updates etc. are present.
Welcome to the world of social media marketing -a tool to thrive your business. But it is not as simple as it seems. Just posting about your company on any social media forums will undoubtedly grab you some attention, but what will be a miss is a long-lasting impact. So what do you do? You need to simply put your worries aside and let the experts do it for you. This is where social media consultants come into the picture. Social Media Planners research as well as formulate strategies and develop the right approach for business promotion. Riverhood is one of the best Social Media agency in Bangalore to provide you with the right business promotion solutions.
Social Media is all about being socially active. It is a place where customers find brands and vice versa. Every forum is a complex web of givers and receivers. Given the large number of users, the trick to social media marketing lies in finding the right people who will become our target audience.The target audience has been found and now we need to make our brand reach out to them. Social media planning and implementation majorly aims at increasing brand visibility. Brand awareness is created through a simple yet efficient process. The presence of your brand is audited to understand the value and position of your brand against your market competitors. Further best practices are analyzed by Social Media Planners via case studies. Deliverables are prioritized and social awareness about your brand and its features is created.
Social Media Optimizations
The gist of social media optimization is boosting the online presence of your brand. It basically deals with making people aware about your brand and its features. An important way to do so is to increase the footfall aka the traffic movement on your site. Also making your social media posts popular and generating the maximum number of hits, gives amazing results. But this is not where it ends. What's more to it is the fact that even after receiving a response from a large audience, it is important to keep them engaged. Constant involvement is gist of SMO services. To achieve the same, we need not only need to keep the brand, its image and presence updated but also refurbish it from time to time. Indeed social media optimization services are vital for your brand to thrive. There are several SMO companies in India providing best and effective SMO services. Riverhood is indeed one of best SMO agencies in Bangalore.
It works on a simple mantra: Listen, Build and Connect. Monitor and listen to your target audience. In this world of social networking, where our personal life is no longer private, understanding the need is no longer a nail in the foot. After you know what the audience wants, building the right, relevant and quality content comes next. Remember to use platforms that align with your brand's reputation and image. While some platforms are formal like LinkedIn, some are not, like Facebook. Ultimately connect. Don't wait for the miracles to happen – create it. Leading SMO strategy companies make their content emphatic and interact with people. Initially, when the traffic is low respond to as many comments as you can. Sharing positive feedback will help create more positive feedback about you.
Social media platforms are common grounds where people of varying age groups, occupations, places and opinions come together. Every forum has a theme and style of its own. And fortunately this era has a social media mode for most of the typologies of content that we can imagine. YouTube rules the world of video content, while Instagram is all for pictures. While our very own Facebook has always been there to connect and socialize with anyone and almost everyone out in the world there, dear Twitter establishes his presence with mighty words. It is important to understand that these forums are not merely tools of recreation but modes to a wider reach. Building up a brand's social media presence consists of reinforcing its connection with the wide variety of content and its concerned platform, and using it for the company's advantage in the right way.
Riverhood is a well known and one of the best social media company in the country which has been known to have amplify businesses. At Riverhood, we have well experienced SMO Experts and Social Media Team to enhance your business with our ultra streamlined approach and professional sensibilities.
The Riverhood team comprises of professionals with high level of expertise in the field of social marketing services. Each member, apart from years of experience, has several successful brands credited to their name.Our team and their skills is our asset. The core strategy comprises of three steps - Analyze, Formulate and Optimize. Also there is a fourth step - Success. As each of our strategy is backed by intensive research and experience, therefore we guarantee success.
As a renowned social media consultant enterprise, it's our motive to serve you in the best possible professional manner with a personal touch.
Tell Us About Your Project